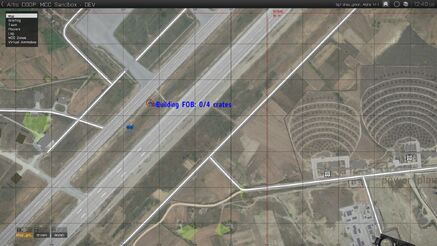 Squad leader can order to build battlefield emplacements up to 200 meters from this position using the SQL PDA or the Self Interaction.
In order to build a battlefield emplacement the squad leader should first issue a construct order - an icon on the map will be visible to all players from his side stating what he is intending to build and how many resources missing to build it.
Then a certain amount of resources have to delivered to the construction site - which will appear as a small rubble hill until finished.
More to that at least 3 friendly units should be next to the construction site until it is finished.
The squad leader can command to construct any of this battlefield emplacements.
Forward Outpost Base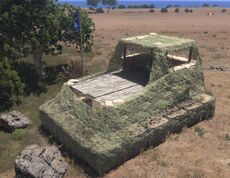 The F.O.B serves as any other MCC F.O.B means player can respawn in it.
Supply needed: 4 X small supply crates.
Limitation: Must be built farther then 1,000 meters from another F.O.B.
Small Bunker
Small bunker is used as fortification.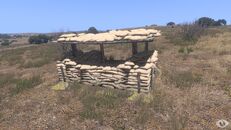 Supply needed: 2 X small supply crates.
Limitation: Must be built within 500 meters from F.O.B.
Heavy Machine Gun (HMG)
Grenade Machine Gun (GMG)
Anti-tank (AT)
Anti-air (AA)
Mortar